B+E Car & Trailer Training, Caravan, Trailer and Horse Trailer driving instruction

Teaching safe driving for life
Did you know...
That the law changed in January 2022 and car and trailer driving tests are no longer required in order to tow a caravan or trailer. Category B drivers can now tow a car and trailer combination of up to 7 tonnes.
Please check that your vehicle is capable of towing heavier trailers.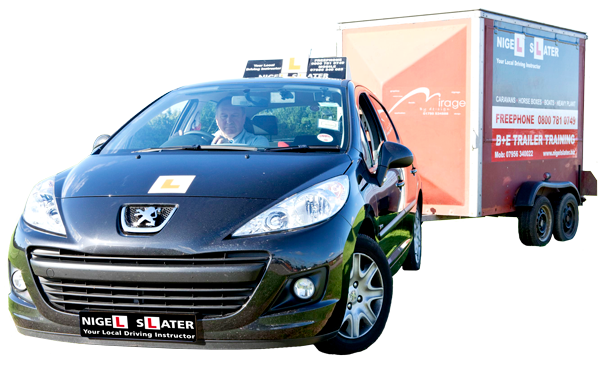 Do I need to take a test?
All Drivers who passed a car test on or after 1 January 1997 are no longer required to pass an additional driving test in order to gain entitlement to category B+E.
What does the training involve?
There are 6 parts to the driving training:
an eyesight check
vehicle and trailer checks
towing roadcraft
reversing your vehicle
uncoupling and recoupling the trailer
independent driving
What my clients say

Vincent S
"Would just like to say many thanks to Nigel for getting me through my B+E trailer test. Right from the off Nigel was very professional whilst teaching and arranging times dates etc. I wouldn't hesitate to recommend him to any of my friends or family. So thanks Nigel."

Nicola C
"I thought it sensible to have some instruction in towing a trailer, even though my licence allows me to do so without taking a further test. What a good job I did! Nigel was brilliant, puts you at ease and is patient and has a great sense of humour. I recommend anyone contemplating towing to have some instruction with Nigel. Many thanks."

Tom
"Just a quick note to say thanks for getting me through my B+E trailer test. Great training sessions and very impressed with flexibility and willingness to work around my busy schedule. I learnt a lot in very little time and managed to pass first time."

Jayne G
"I have just passed my B+E (First time) Nigel has been a fantastic instructor, easy to get on with, good sense of humour, got me out of my bad driving habits and telling me when I have done something well, as well as correcting my mistakes. Easy to understand instructions and some helpful tips which not only got me through my test but I will keep in mind for life! Can't recommend highly enough!"

Daniel P
"I've just completed my B+E Training with Nigel Slater. I have been driving for ten years and have adopted many bad habits along the way, I needed my B+E to forward my business and it was very important to me that I passed the test. Nigel understood this and was very patient and took me through it step by step with clear instructions through out. Nigel taught me so much in the three days, skills that I will use for life! I would recommend Nigel to anyone that needs to pass their test! Top guy!"

Neil Richard Bond
"We needed to add an addition to our driving licence to include B + E trailer training and searched for a local driving instructor providing this service. I started my three day intense course around my working activities which suited me down to a tee. Nigel is a knowledgeable person who takes time to explain the course in layman terms, whilst making you improve your current experience too. I would highly recommend Nigel Slater for both B + E trailer and driving lessons which are value for money."